---
St Patrick's Day Potluck Ideas For Work or ANY St Patrick's Day Party Crowd – Here's what to make, take, buy or bring for your work party potluck on St Patrick's Day.
From easy last minute must make dishes to fun and easy green food recipes and traditional food ideas that are perfect for a St Patrick's Day potluck at work, a brunch, luncheon or ANY St Paddy's Day party crowd.
If you're wondering what to BRING to your St Patrick's day potluck at work this year, this page will give you a TON of easy dishes, cheap snacks, dessert recipes and potluck party ideas.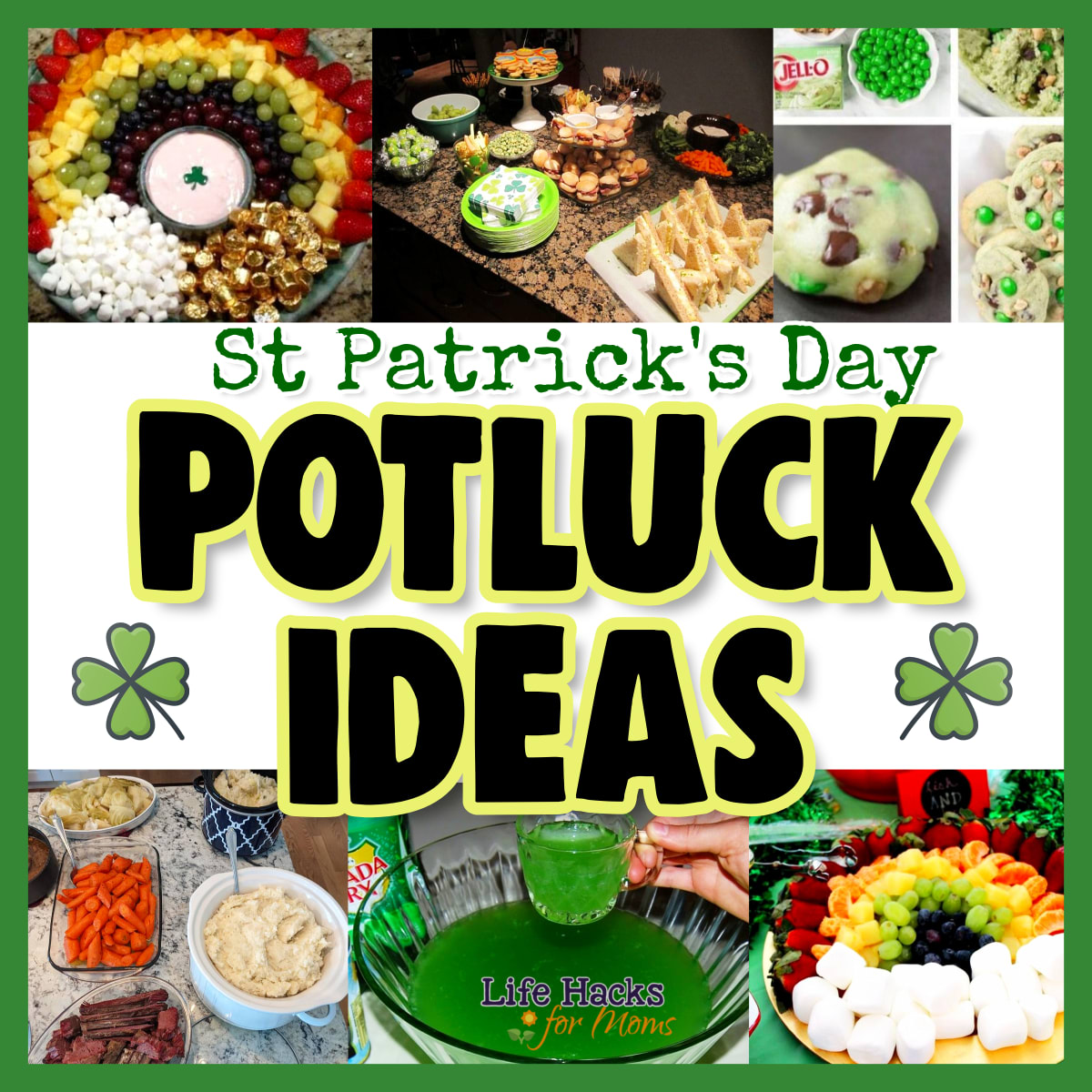 Welcome to Life Hacks for Moms - we hope you enjoy all our tips and tricks for busy moms! Please note that we use affiliate links and ads to generate income at no cost to you.
---
St Patrick's Day Potluck Ideas
A St Patrick's Day potluck can be SO much fun at work where everyone brings a covered dish, a main dish, an appetizer, snacks or dessert.
The most obvious reason is: all the GREEN FOOD!
Green food can be fun, but seriously, I just can't do green eggs (yuck) but there are lots of fun and easy green foods and TRADITIONAL St Patrick's Day food ideas to make, take or bring to your potluck this year.
If you're trying to plan what kind of food to buy and take to your work potluck on St Patrick's Day this year, you're definitely in the right place!
Below are my personal favorite food ideas for St Patrick's day that I make for our office potluck at work, my ladies group luncheon and for our St Patrick's Day party at home.
These are all easy things to cook, buy last minute or make ahead of time.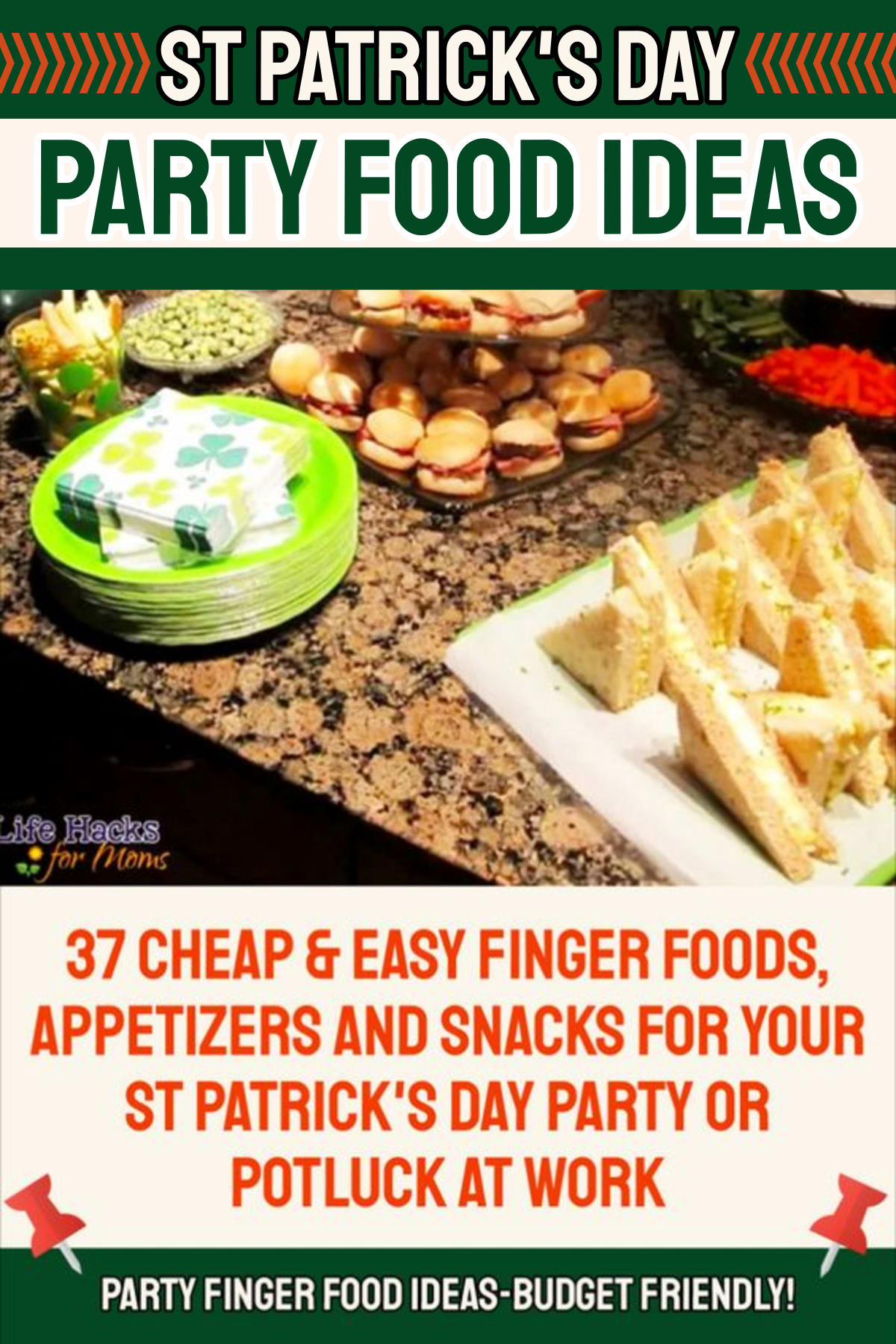 For Work
If you're planning or in charge of organizing a St Patrick's Day office party potluck, here's a really simple way to set things up for a small group and to decide who brings what.
This is also what I did for my ladies group last year and set it all out buffet-style.
What To Bring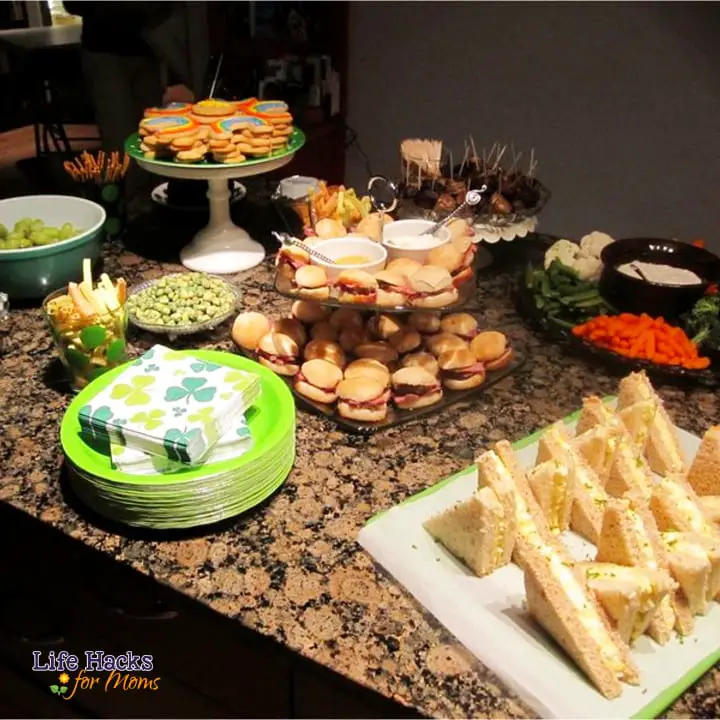 If you're looking for ideas of what to bring to a St Patrick's Day potluck at work, here's a list of ideas plus easy potluck recipes below.
These are the potluck dishes, appetizers, store-bought food and more that was served at last year's St Patrick's Day Potluck at work for our annual Buffet Party:
Last Minute Finger Sandwiches
Store Bought Vegetable Platter
Corned Beef Mini Slider Sandwiches
Rainbow Cookies from Grocery Store
Pistachios Snacks
Green Grapes
Roasted Mini Potatoes Side Dish
Wheat Thins With Cheese Spread
Rolo's Gold-Foiled Candies
Girl Scout Thin Mint Cookies
Veggie Straws
Add in some St Patrick's day themed plates, napkins and cups and you're good to go!
As you can see, ALL the potluck food does NOT have to be green.
Traditional St Patrick's Day Food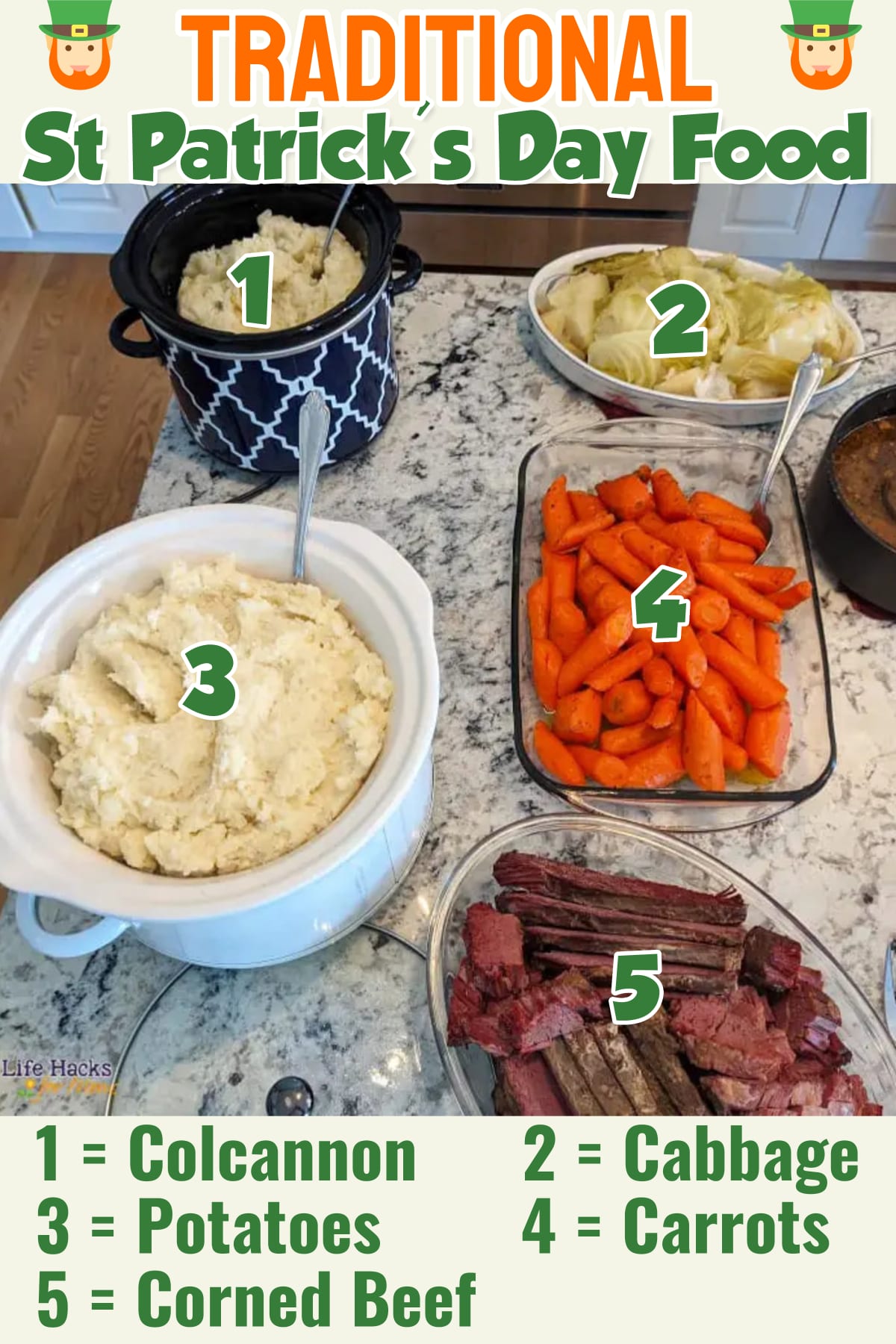 If you're wanting your work potluck or party buffet to include the more traditional St Patrick's Day food, be sure to include:
Corned Beef
Cabbage
Potatoes
Carrots
Colcannon (mashed potatoes and cabbage mixed together)
Those 5 foods will give your potluck the right main dish and side dishes to go with your Irish St Patrick's Day theme.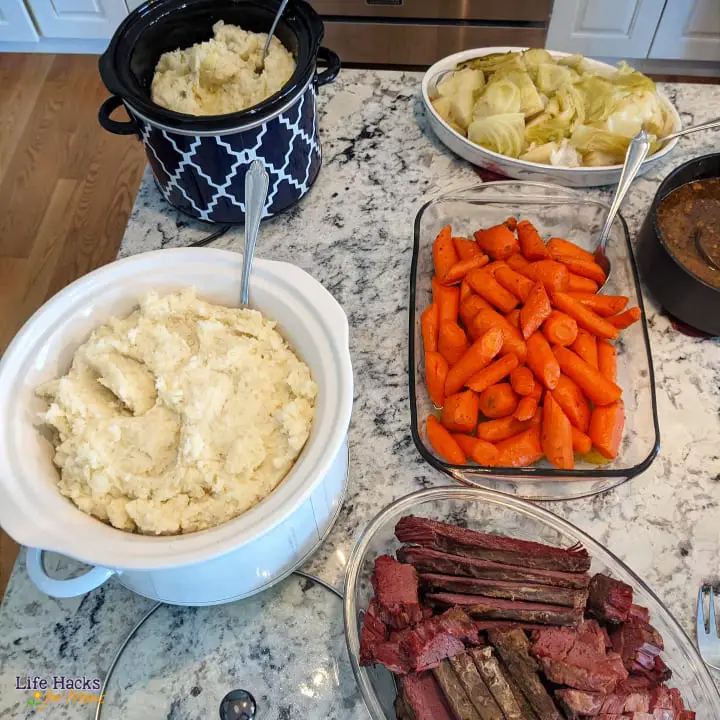 Personally, I ALWAYS have macaroni and cheese too!
C'mon – everyone LOVES mac n' cheese!
Healthy Ideas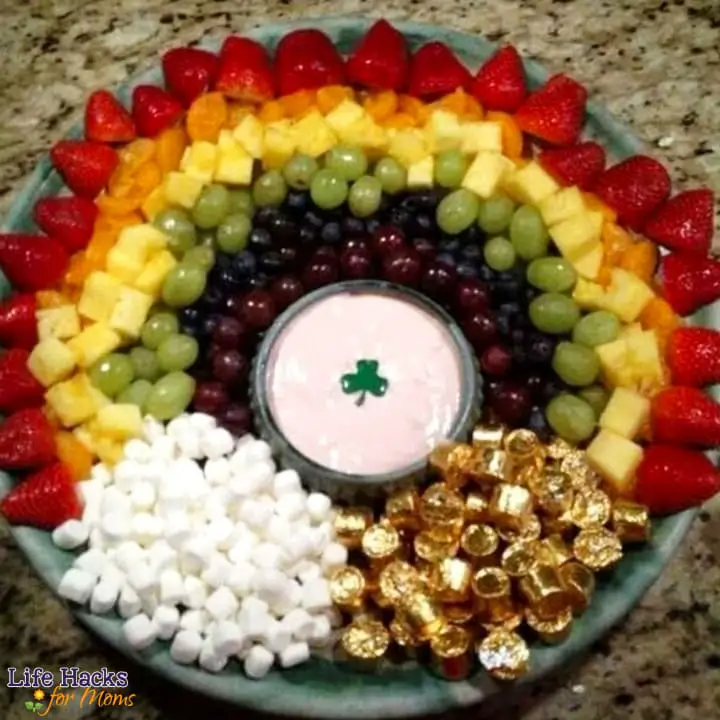 If you're having a St Patrick's Day brunch or breakfast party – or just want to bring something healthy to your office potluck at work – these rainbow fruit platters are a great idea.
Super simple to make, too!
Just slice up, or chunk up, some strawberries, cantaloupe and pineapple – add in some green grapes and blueberries and curve each layer of fruit into an arch (like a rainbow).
Put some fruit dip in the middle and you can even add some mini-marshmallows and individually wrapped Rolo candies to give it a little more of a St Patrick's day touch.
St Patrick's Day Snacks Platter
Isn't this Leprechaun potluck snack platter the cutest?!!?
It only takes about 30 minutes to assemble it, too!
Raw vegetables, hummus dip, crackers – the perfect Paddy's Day-themed snack platter to bring to your potluck at work!
Charcuterie Boards
A charcuterie board, or fancy snack platter, is a great idea to put out at a St Patrick's Day party too.
Something like this: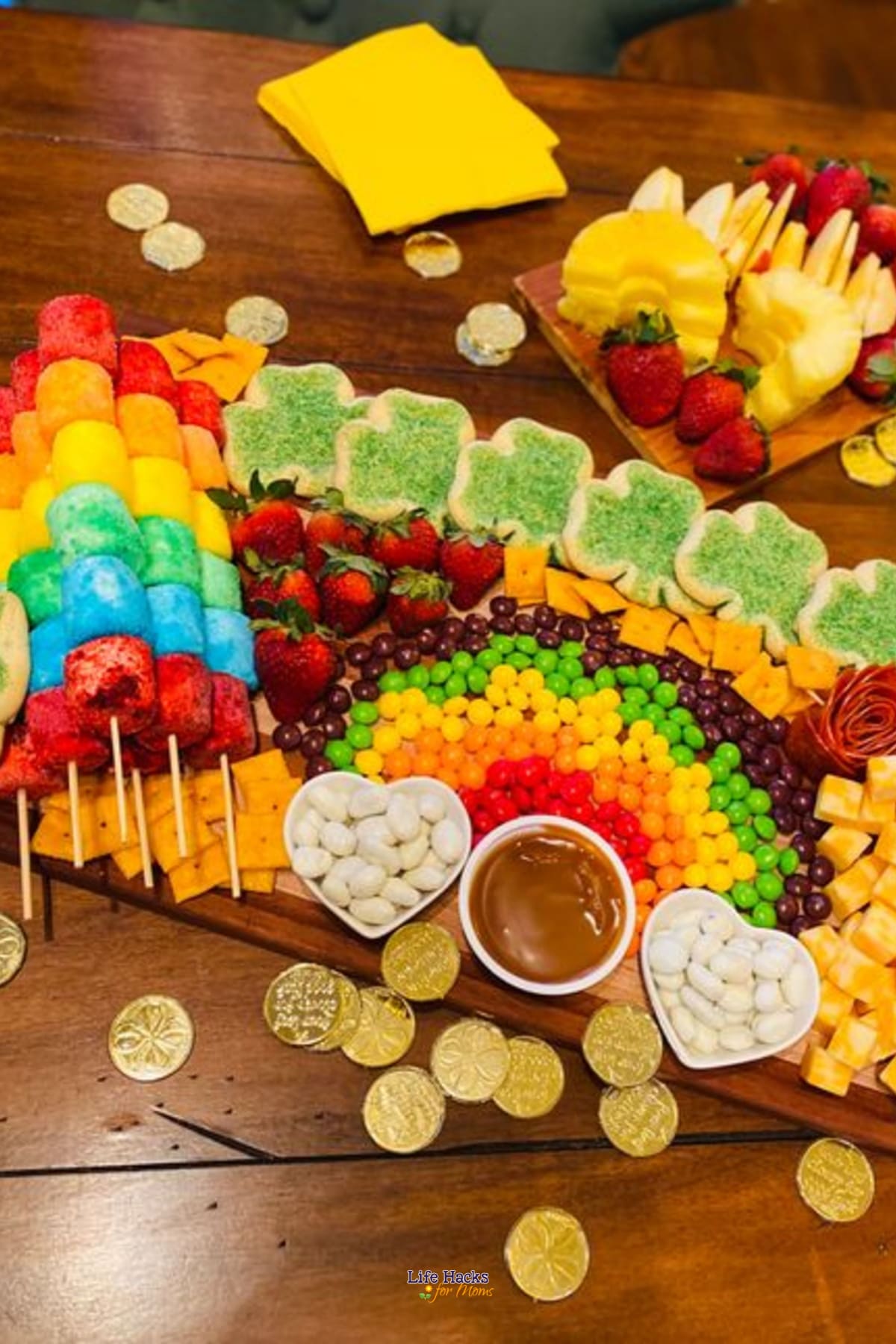 Cute, right? Love the colored marshmallows on the skewer sticks – the whole sweet treats platter is SO colorful and FUN.
Here are 4 more charcuterie board ideas for St Patrick's Day.
I'll link you to where to find the instructions to make each charcuterie board below.
Here's where to find each board.
2. St. Patrick's Day Party Candy Board found on aworthyread.com here
3. St. Patrick's Sweets Charcuterie Board found on snowflakesandcoffeecakes.com here
4. St. Patrick's Day Dessert Charcuterie Board found on bullocksbuzz.com here
Potluck Irish Potato Casserole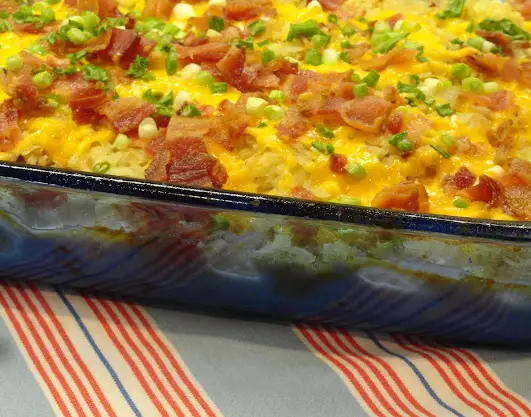 If you're in charge of bring a side dish to your St Patrick's Day potluck, this Irish Potato Casserole WILL be a crowd favorite.
It's also a perfect make ahead side dish AND it travels well, too!
Last year, I made this entire casserole the night before our potluck party and put it in the refrigerator.
When I got to the potluck, I simply popped the pre-made casserole in the oven for about 15 minutes at 350 and it was DELICIOUS.
No leftovers either – everyone gobbled it up!
See all potato casserole recipes here.
No Bake Irish Mint Delight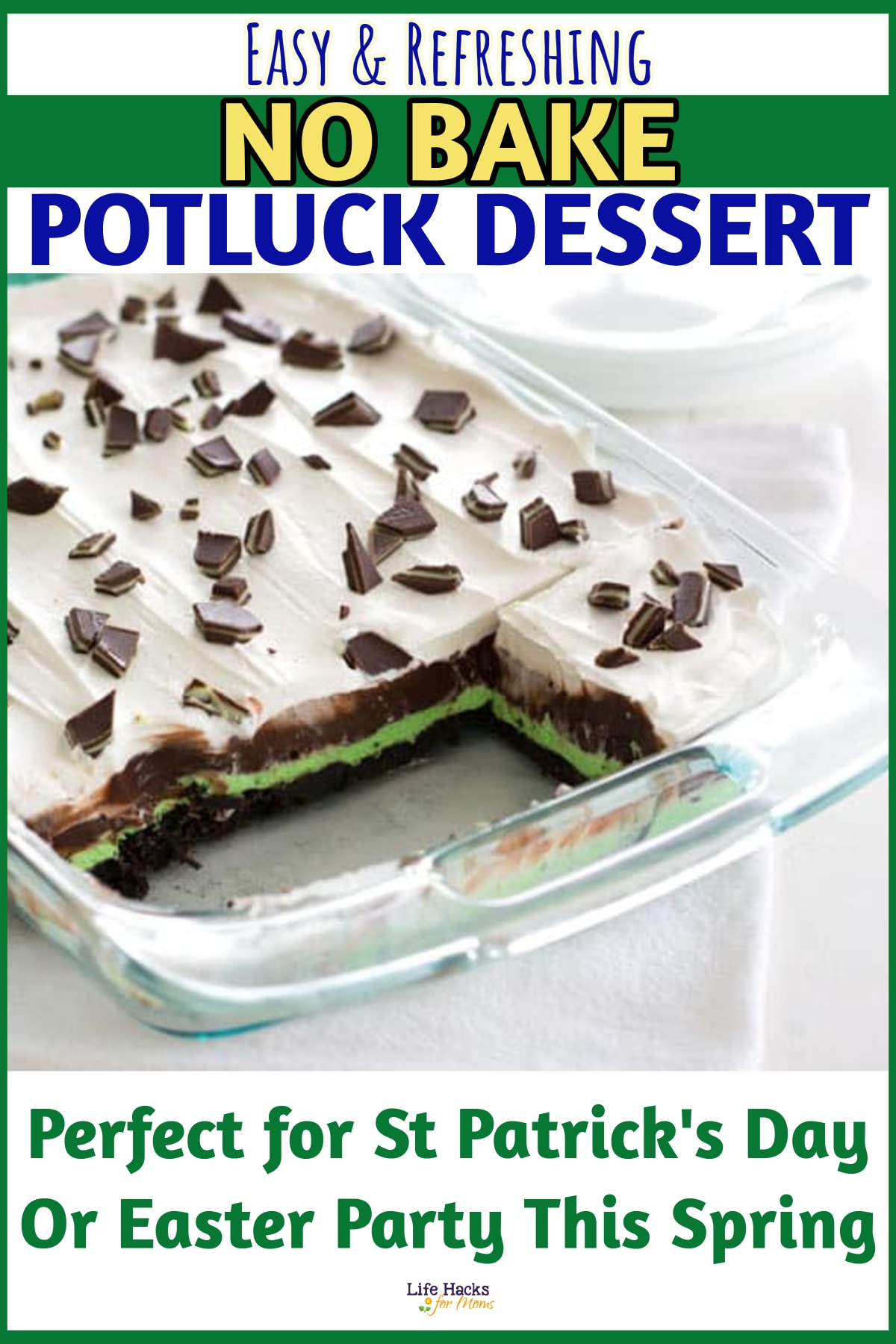 This is one of my favorite desserts to bring to a St Paddy's day potluck or party.
It's got the Irish theme and the green color and it's SO easy to make.
I did mention it's a NO BAKE dessert, right?
The layers are beautiful and it tastes even better than it looks!
So minty and refreshing!
Last Minute Brunch Potluck Idea
If you're like me, you tend to be buying something at the store last minute for your St Patrick's Day party, get together or potluck.
If you're going to a St Patrick's Day brunch, don't forget that Krispy Kreme Doughnuts usually has their Luck of the Irish doughnuts for a limited time (you an even order them online in some locations).
Not only are they SO good, they fit in perfectly with the green Irish-themed food!
Luck of the Irish Cookies
These Luck of the Irish St Patrick's Day cookies are the perfect sweet treat to snack on at your potluck or party.
Add in some green food coloring if you want them extra green to match this potluck theme.
And yes, there is a unique ingredient you can buy at the store that gives these cookies a unique and wonderful flavor!
Potluck Punch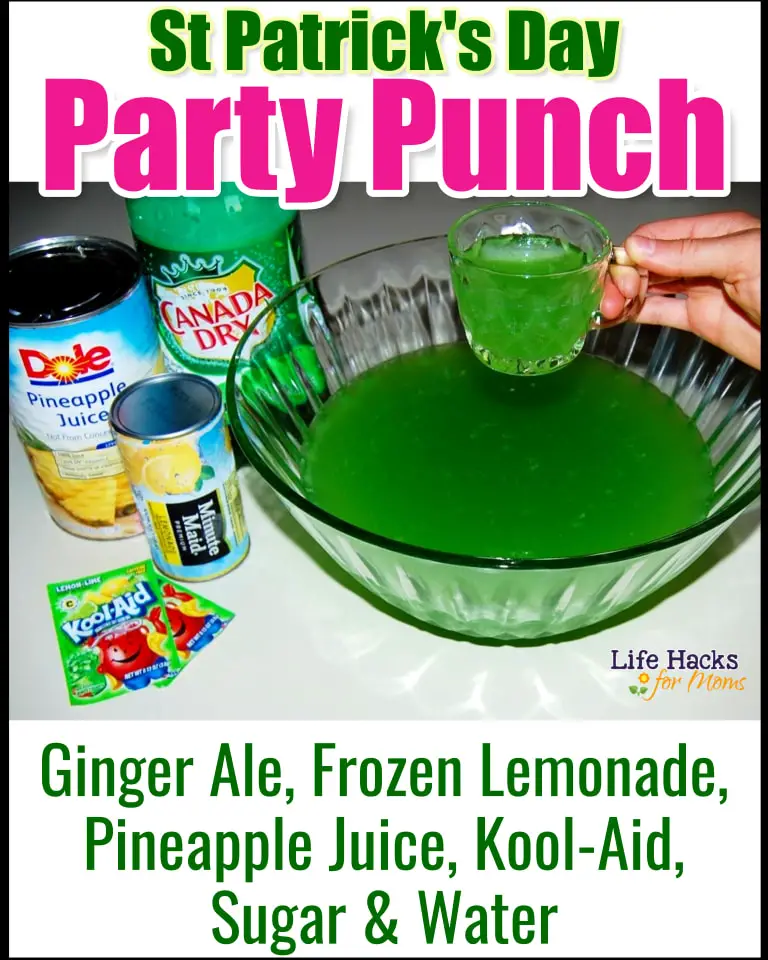 When you're having a potluck or ANY type of party, don't forget about the drinks!
Obviously, green beer is a tradition, but if you're having a St Patrick's Day potluck at WORK, you might need something that is NOT an "adult" beverage lol!
This is a really easy St Patrick's Day Party punch recipe – and yes, it's GREEN punch.
More Potluck Party Ideas
Miss Anything?
Go back to the top of:
==>> St Patrick's Day Potluck Ideas For Work
Go back to a specific section:
You might also like:
=> St Patrick's Day Christmas Tree Ideas For Your Party
---
=> St Patrick's Day Crafts for Kids
---
=> Potluck Dessert Ideas for a Crowd
---