Inexpensive COLD Appetizers for a Crowd – Quick Easy Make Ahead Cold Potluck Appetizers, 3 Ingredient No Cook / No Bake Appetizers & Finger Foods, Cold Dip Recipes and More Cheap & EASY Cold Appetizers For Your Party Crowd.
From cold summer appetizers to easy make ahead finger foods ideas for a crowd, these simple three-ingredient frugal appetizers are perfect for your party, baby shower, office potluck or Holiday get-together – even if you're entertaining on a budget.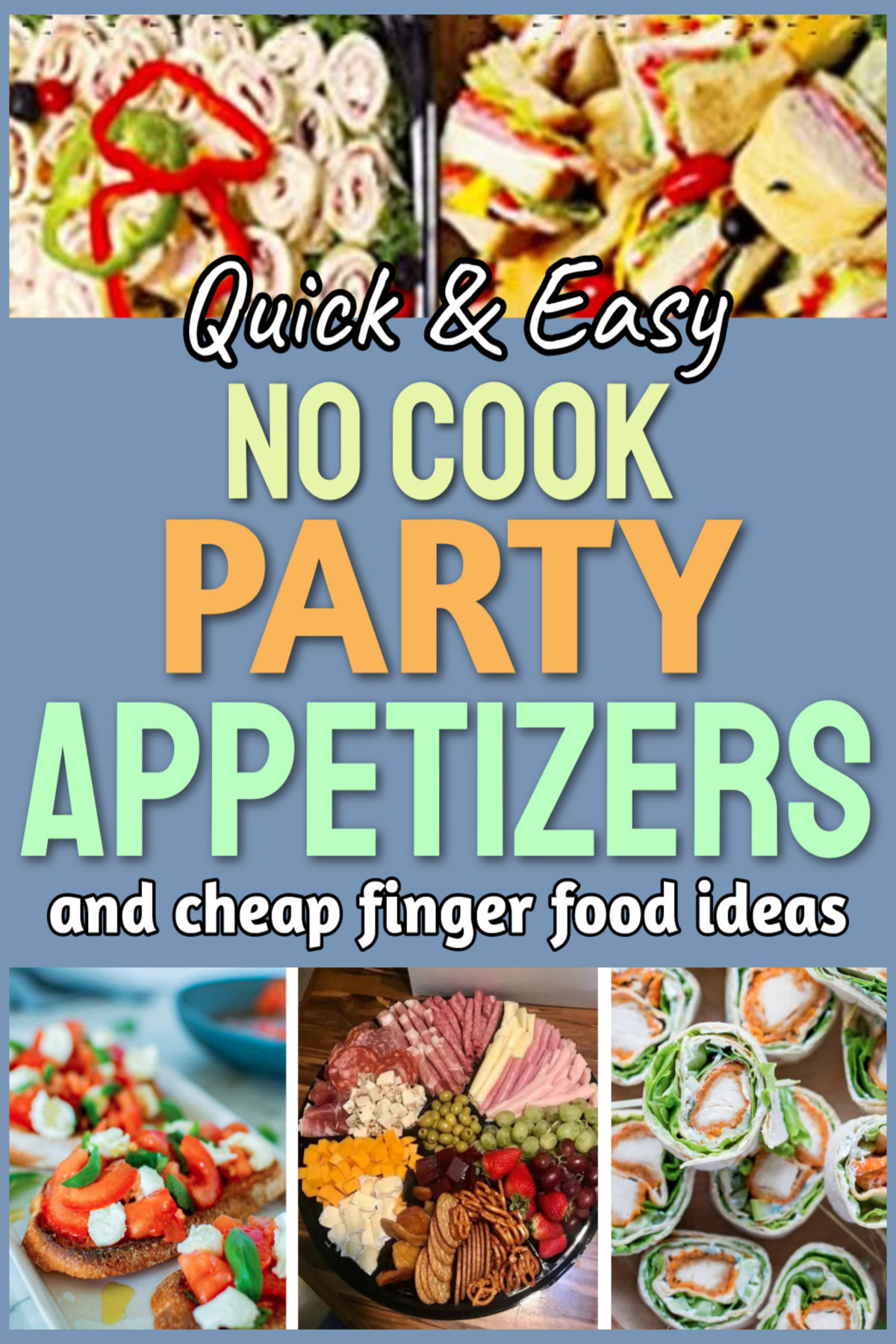 Cold Appetizers & Finger Foods
Let's talk COLD appetizers for parties and finger foods, too – and let's make them quick and EASY appetizers that only require THREE ingredients. No cooking, no fuss – just simple party food you can make ahead of time or last minute to feed any crowd on a tight budget.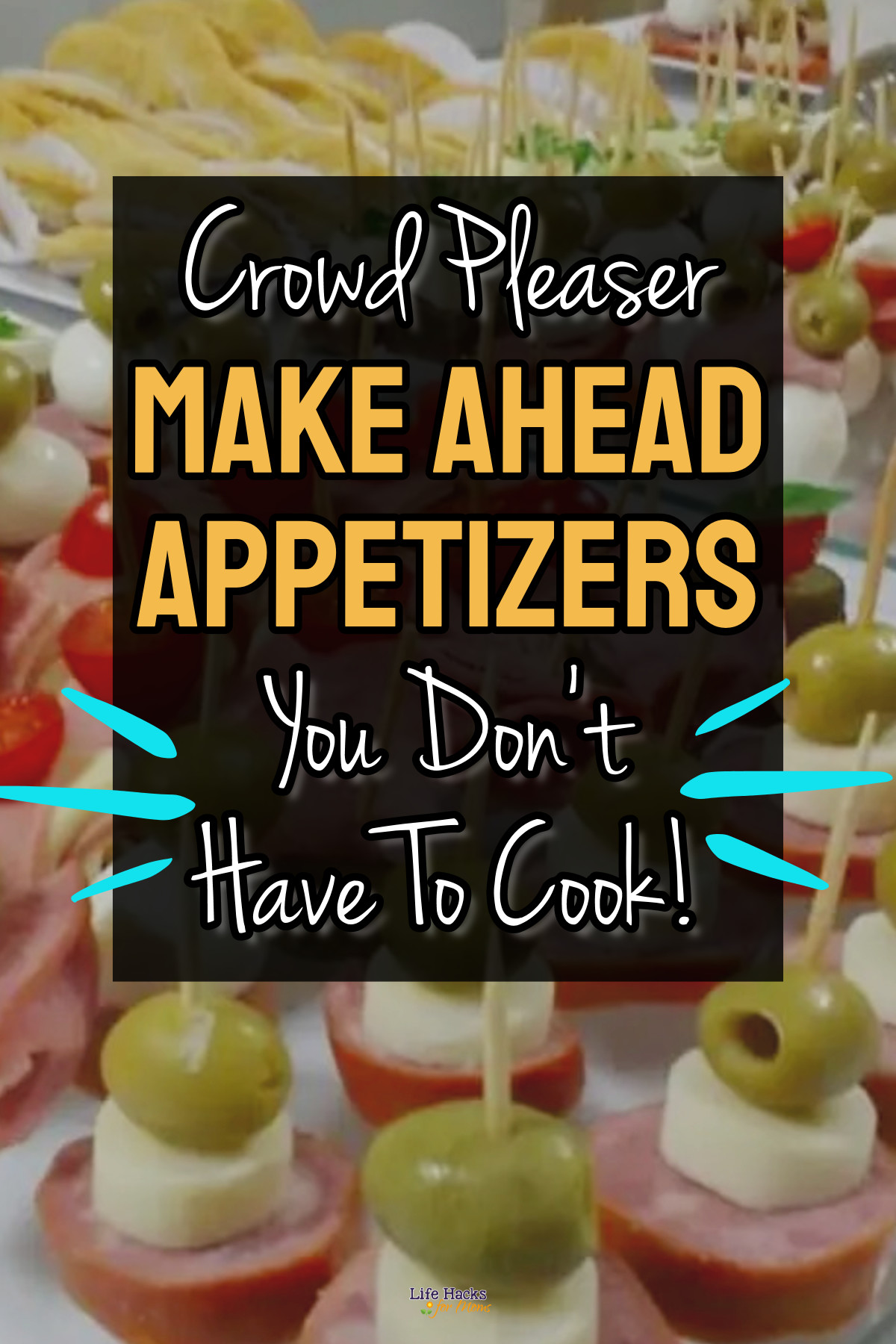 These 13 cheap and quick 3 ingredient cold appetizers are my favorite fast and easy recipes with few ingredients.
They're perfect for any potluck, work party, church supper, summer BBQ, picnic, for fundraiser events, cold food buffet table, cocktail party appetizers, birthday party, grazing table, anniversary, family reunion, cookout party, graduation party or family gathering.
These cold buffet party finger food ideas are also cold appetizer examples of super simple No Bake / No Cook appetizers you can make in 5 minutes on a budget – even for a fancy event like a gala, cocktail party or wedding when you need elegant bite size cheap homemade party food platters for a large group!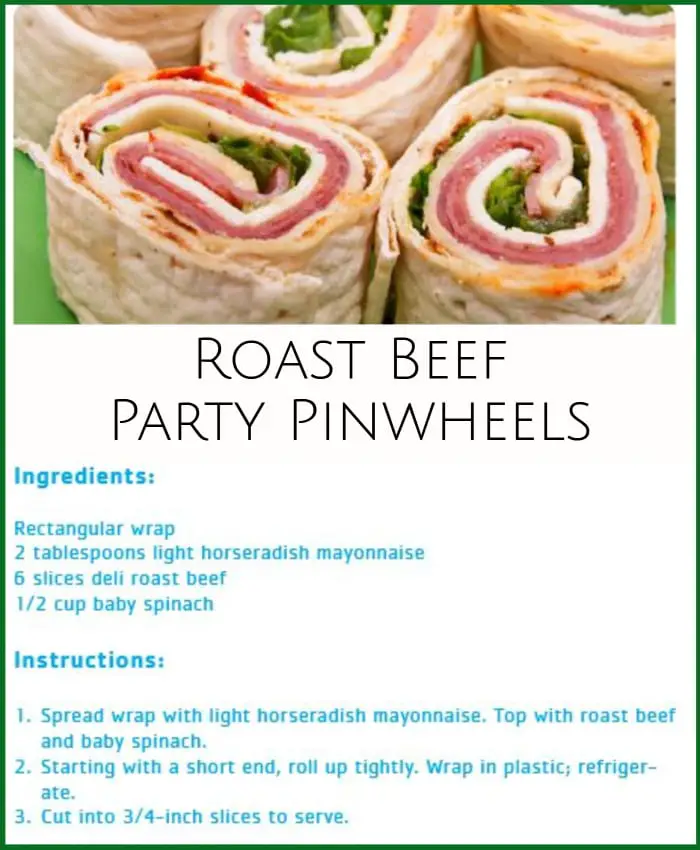 These are also my favorite 3-ingredient appetizers for tailgating because they travel well, too (just like these potluck ideas here).
You can even dress up these cold appetizers and finger foods for a potluck to look elegant and fancy with toothpicks or fancy single serve stick skewers – only YOU will know how super simple they were to make!
In short, these are all quick and inexpensive appetizers for a crowd that YOU do NOT have to COOK – yay!
Inexpensive 3-Ingredient Cold Appetizer Recipes
These cold appetizer recipes below all have only 3 ingredients, are CHEAP to make, are super simple and insanely good appetizers to make ahead or make last minute on those crazy, busy days.
I'll also share some tips and tricks that I do in order to make these easy and cheap appetizers for large groups more crowd pleasing AND shortcuts to make them extra easy to make.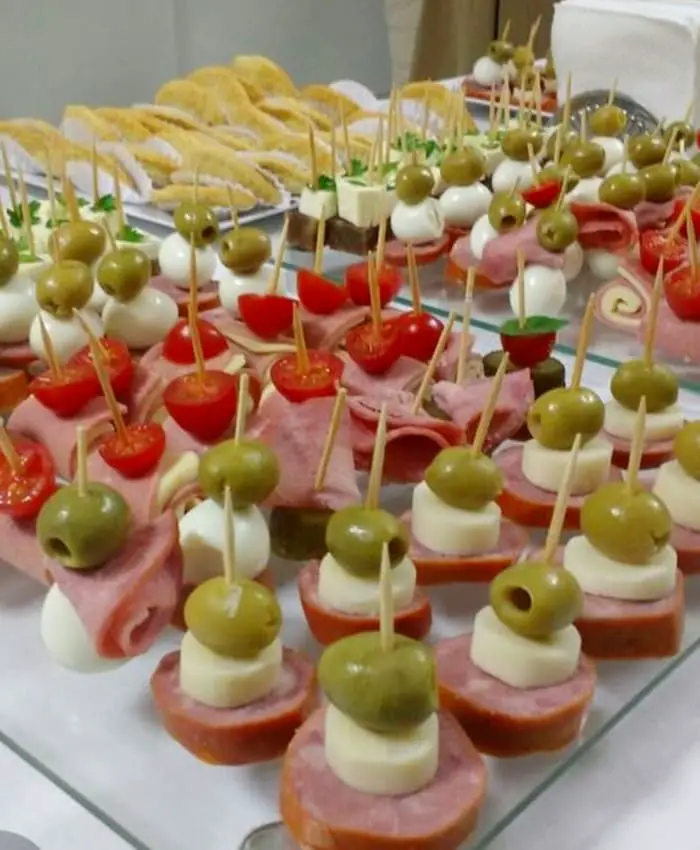 I don't know about you, but I got SO tired of recipes with ingredients and procedure that aren't even realistic or EASY – that's why I am collecting this list of super SIMPLE 3 ingredient finger foods and party appetizers.
I also have a bunch of picky eaters in my family so I adjust these cold apps to fit my hungry and PICKY crowd.
Also, if you need make ahead cold appetizers that travel well, these 3-ingredient recipes are the best appetizers and no cook finger foods to TAKE to a party, a potluck etc.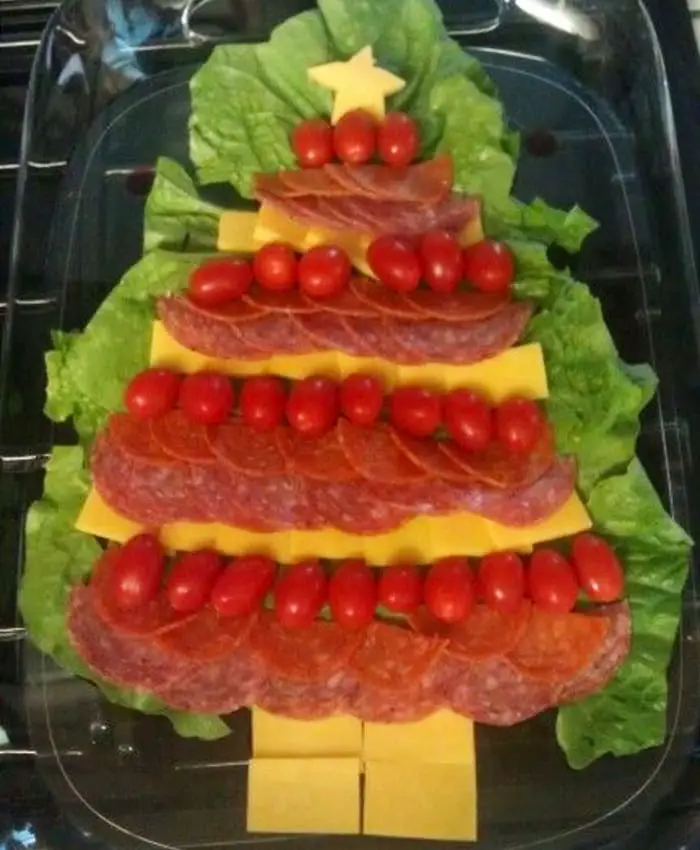 Potluck Stuffed Cherry Tomatoes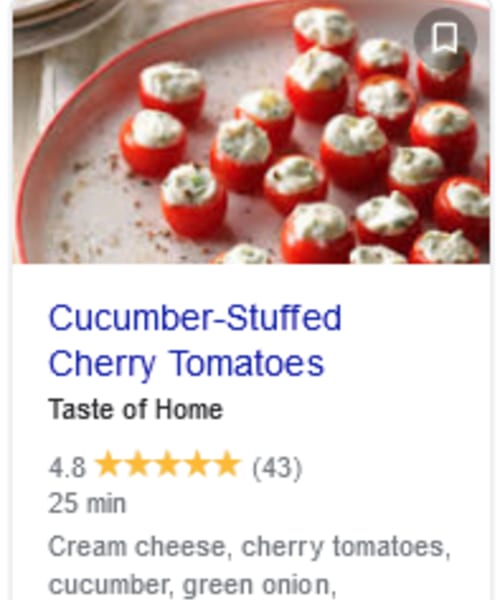 There are only 3 simple ingredients in this cold appetizer: cherry tomatoes, cream cheese and mayo.
Yep that's it!
3-Ingredient Cold Guac Dip For a Crowd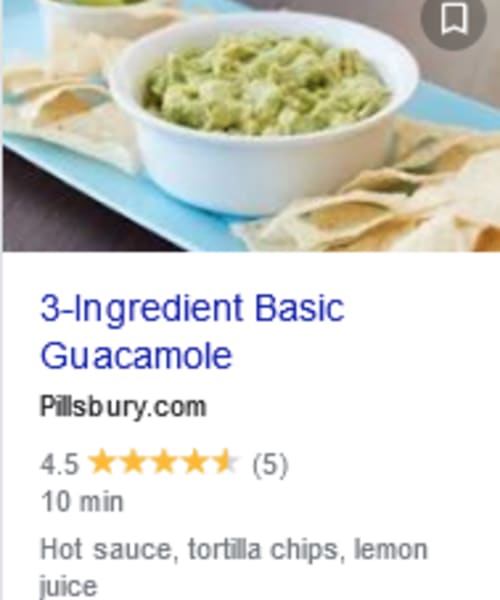 This guacamole dip doesn't get any easier! Just mash up some avacados with some lime juice and salt. Throw in a dash or 2 of hot sauce if your crowd likes things a bit on the spicy side.
5-Minute Crab Dip Appetizer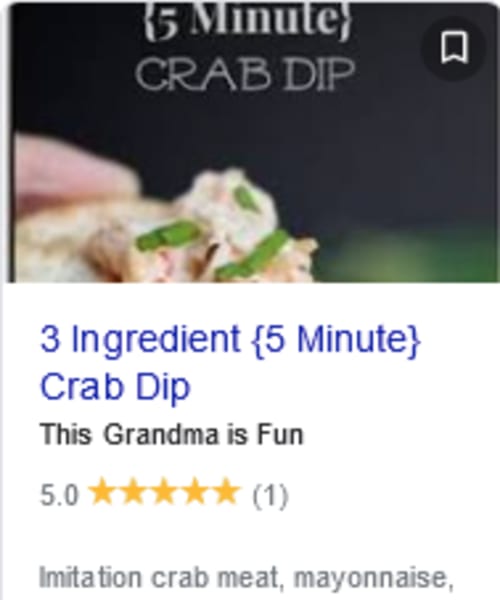 Yep, you guessed it, only 3 ingredients and ready in only 5 minutes (or you can make it ahead of time!
It is SO good!
Cheap Salami and Cheese Bites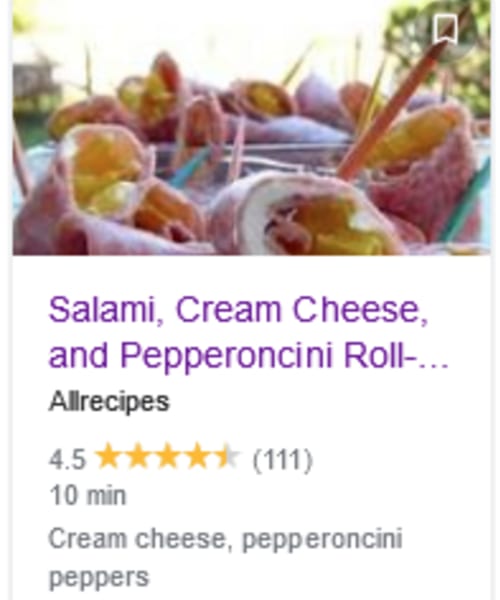 I love this super simple recipe – it's salami bites filled with whipped cream cheese and pepperoncini peppers – SO good!
One of my all-time favorite fast and easy 3 ingredient cold finger foods for any appetizer table (we even take them tailgating!)
3-Ingredient Beer Dip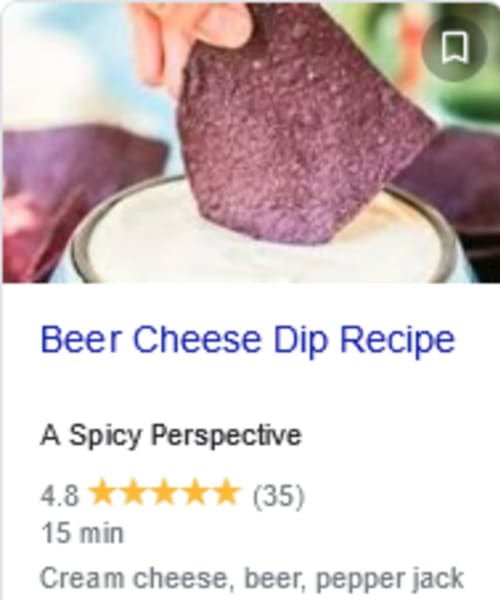 This beer dip recipe can be made with real beer, near beer, non-alcoholic beer – or no beer at all.
You can serve this dip hot, if you want, but we REALLY love it cold – it's present at EVERY SuperBowl party in this house!
Turkey Roll Ups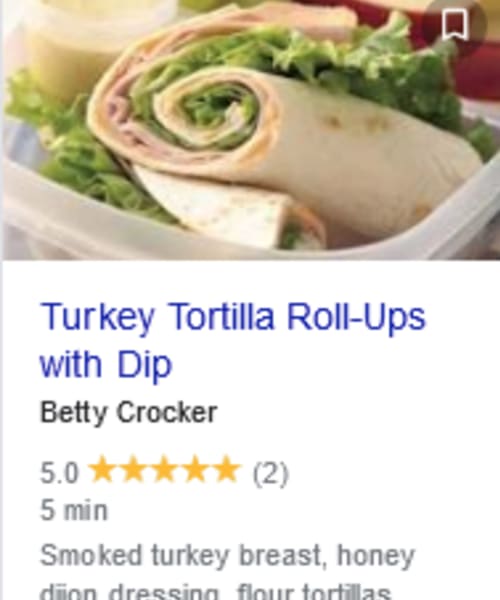 I make these super simple turkey rolls up for all our family gatherings and parties.
Just toss the 3 ingredients together, roll them up in flour tortillas, then cut into "pin wheel" bite-sized appetizers.
You can even put some extra honey dijon dressing in a cute bowl to use as dipping sauce.
(note: the recipe actually calls for more than 3 ingredients, but I don't put lettuce on mine)
Simple Fruit and Cheese Appetizer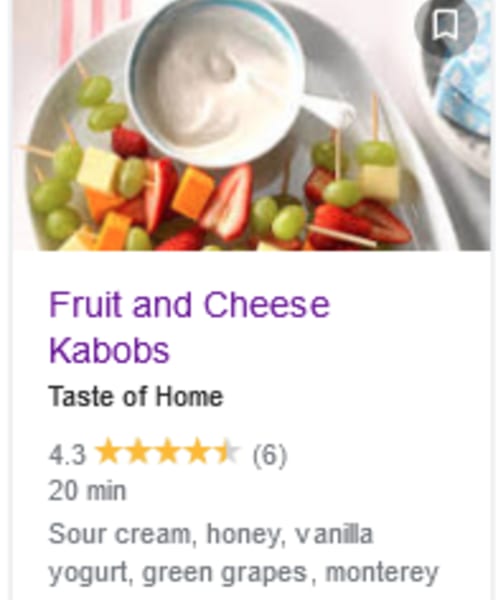 Cold appetizers don't get any easier than these fruit and cheese kabobs. Plus, they look fancy dancy lol!
Loaded Baked Potato Dip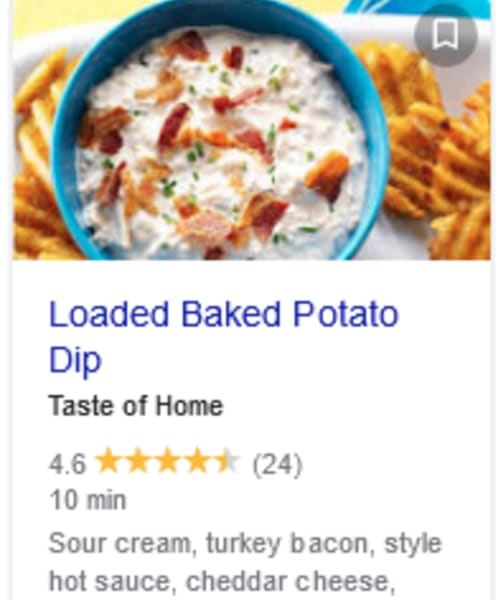 Just 3 ingredients: sour cream, shredded cheese and bacon – it can't get much easier than that!
(note: the recipe calls for hot sauce – which is totally optional and depends on your crowd's tolerance of hot food lol!)
There are a LOT of easy ranch dip recipes for veggies or chips here if you want more easy cold dip recipe ideas.
Salad On a Stick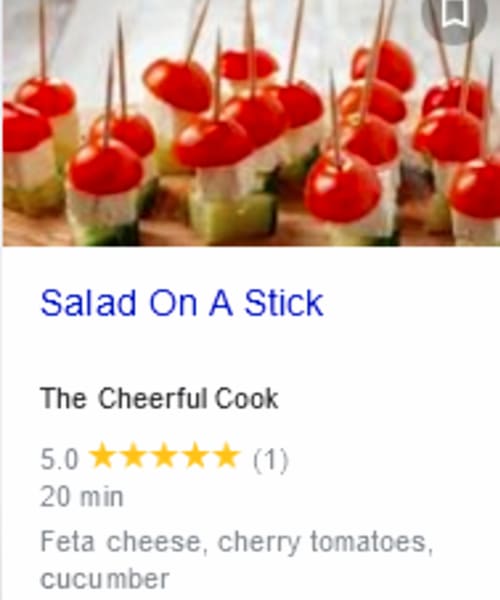 These are another big hit at our family potlucks.
In fact, I make them for all the wedding and baby showers I throw and as a simple super appetizer for ANY occasion.
And they look so pretty, don't they?
Ranch Vegetable Cups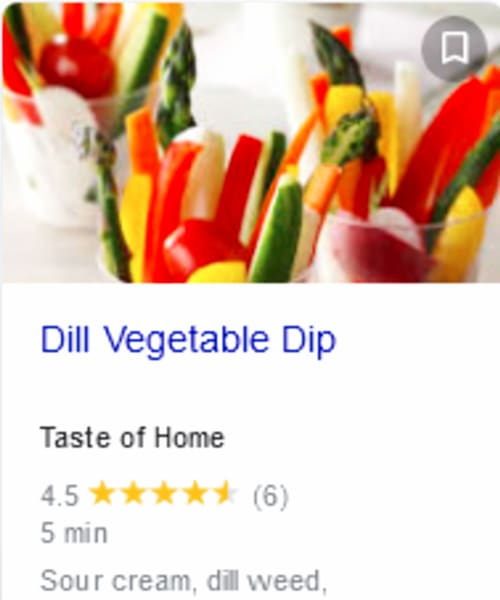 Now, these are pretty to look at, but my crowd doesn't care for ALL those types of cold vegetables to dip. I make these vegetable cups with pre-cut carrots and celery and toss on some cherry tomatoes. Naturally you can use any fresh vegetables that YOUR crowd likes.
TIP: on really lazy or busy days, I'll just squirt some Hidden Valley ranch dressing in the bottom of the cups.
If you want the Dill Vegetable Dip recipe:
Pickles In A Blanket
Now this easy cold appetizer can be made as fancy as you want, but let me tell you MY secret for making it SUPER easy.
You know those flavored Philadelphia cream cheese flavors?
Use one of those instead of trying to work that fancy cheese the recipe calls for.
SO much easier and, in my opinion, they taste better too.
3-Ingredient Chicken Salad Dip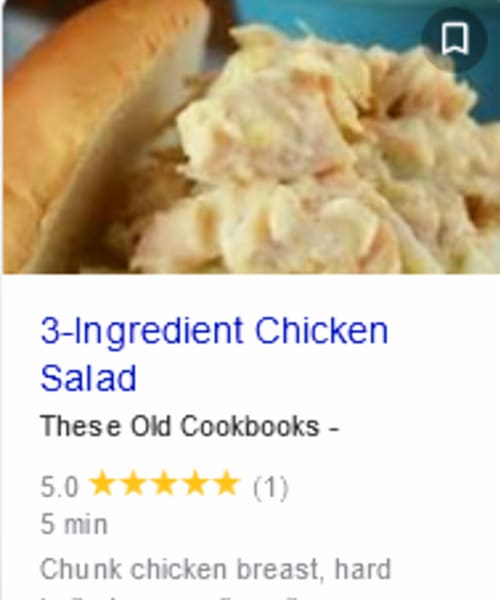 I feel like I'm giving a secret here, but this chicken salad dip is THE easiest 3 ingredient cold party dip I've ever made.
It is SO good – and people think I actually COOKED the chicken and BOILED the eggs… haha!
What makes this such a fast and easy appetizer is that I use canned chicken breast (drained of course) and pre-boiled hard boiled eggs (yes, your local grocery store probably sells them right next to the carton of eggs).
I also toss in some sweet dill pickle relish – it gives it an extra good taste.
Set out some crackers and serve this appetizer dip COLD.
Roast Beef Bites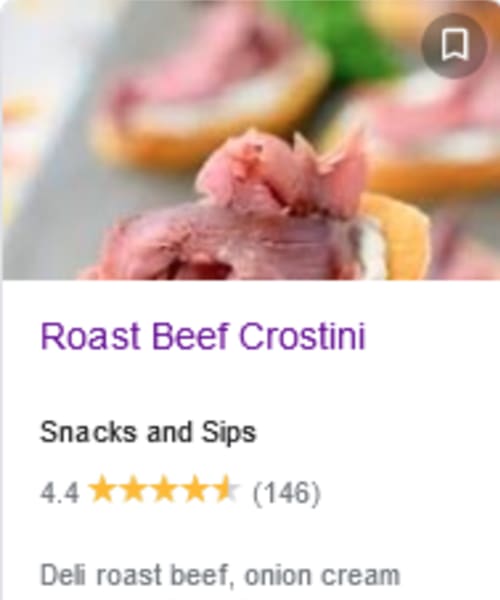 Want a cold MEAT appetizer idea? These roast beef bits are really good and they're filling.
Plus they're a nice addition to all the chips and dips and vegetables on the appetizer table.
Sometimes, we just need some MEAT, right?
Now, the recipe calls for some fancy bread you toast first, but I don't do that.
I get those cute little bread squares in different flavors in the bakery area of my grocery store and put these together on that bread without toasting it.
That makes this cold finger food even easier to make – plus, my crowd likes them better that way.
Make Ahead Cold Appetizers
Want more make ahead cold appetizer and finger food ideas?
Check out these popular recipes and ideas below: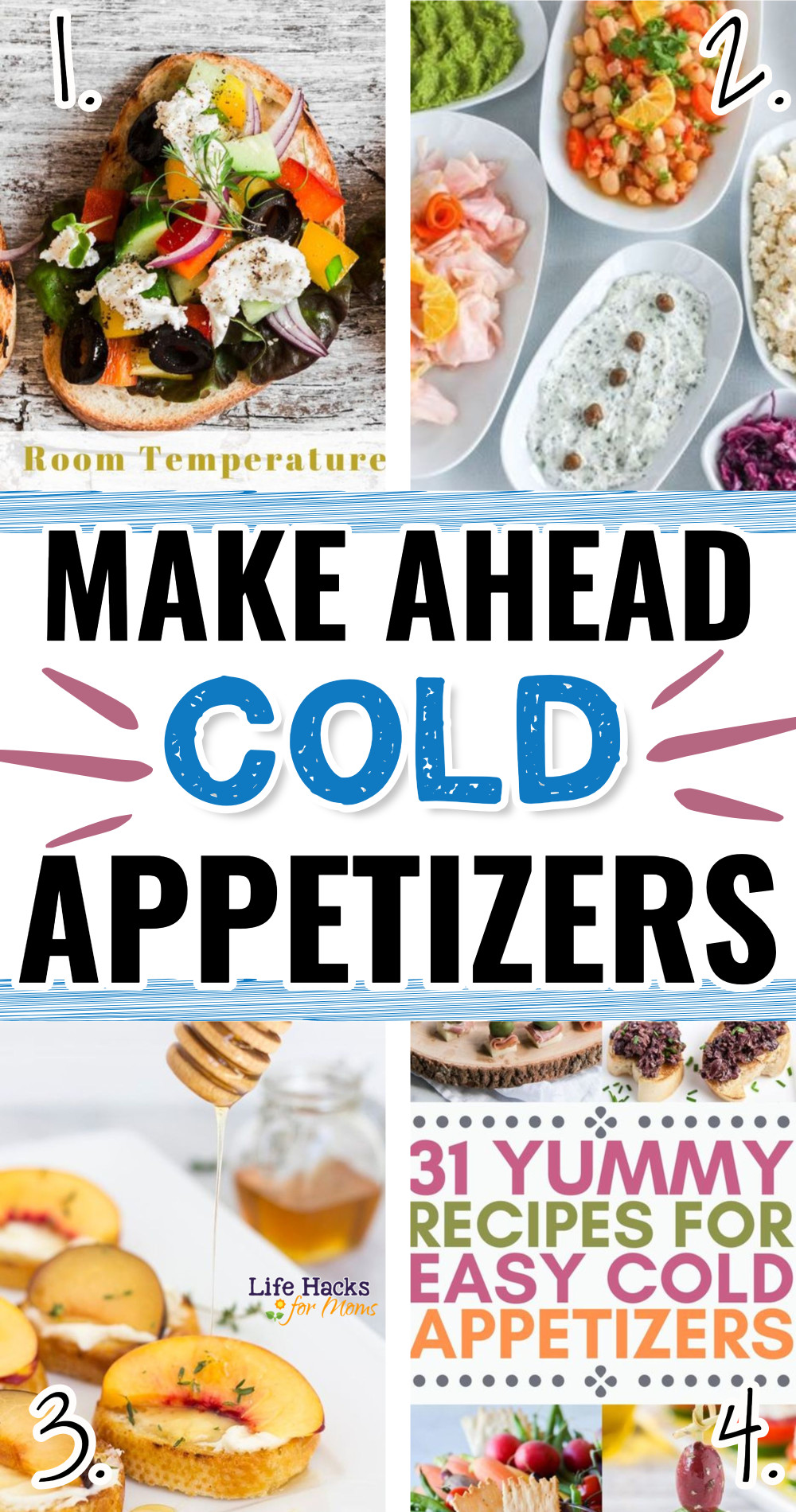 ✅ Cold Breakfast Appetizers-Finger Food Ideas For a Brunch Potluck Party – If you need COLD appetizers for parties, these simple, yet elegant, brunch finger foods are the perfect no cook foods to serve your guests!
1 – EASY Make Ahead Room Temperature Appetizers – Easy room temperature party appetizers that can be quick to make ahead for your next get-together!
2 – 21 Easy Cold Appetizer Recipes For Summer Days – Putting together tasty cold make-ahead healthy appetizer recipes for your next get-together doesn't have to be a complicated and time-consuming affair…
3 – Easy Cold Appetizers for Parties – Dozens of recipe ideas for cold appetizers, broken down by category including cold dips, cold finger foods, cold cheese balls and more!
4 – 31 Easy Cold Appetizers for an Entertaining Party – Start your dinner right with these easy-to-make and delicious Cold Appetizers. These recipes are simple but marvelous!
No Cook Appetizers
You know what my favorite way to cook for a crowd is?
NOT cooking haha!
Here are some fabulous NO COOK appetizer ideas for your next party, potluck or Holiday gathering: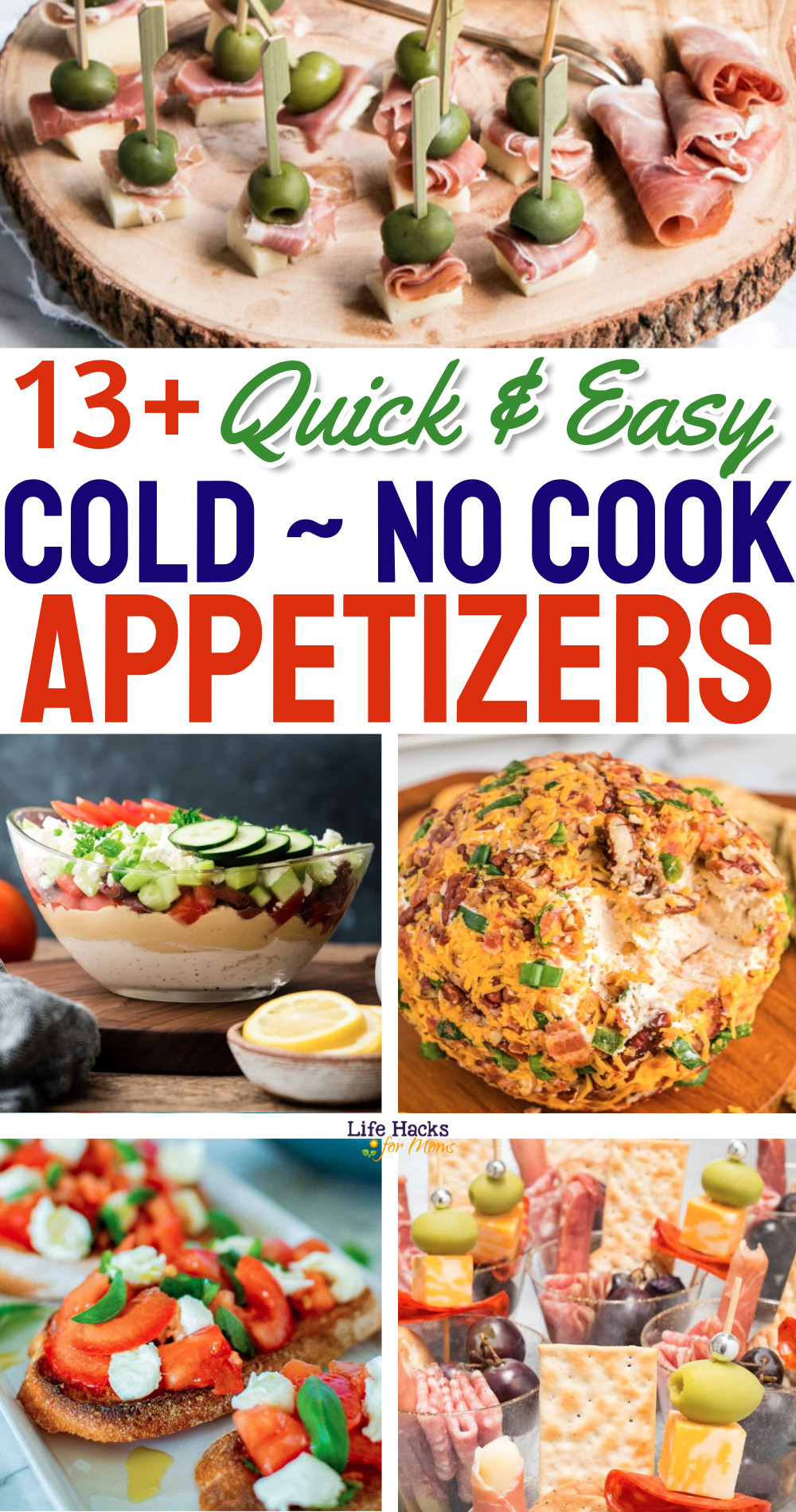 Appetizer Recipes From The Picture Above:
(top) – Cheese, Ham, and Olive Bites – Sometimes the simplest foods make the best recipes. Delicious entertaining made easy with these Manchego Cheese, Ham and Olive Bites. An easy appetizer for the busy holiday season. See the recipe.
---
(middle left) – Layered Greek Dip – This Layered Greek Dip Recipe is a refreshing, healthy cold appetizer that only takes 10 minutes to prepare. It's always the hit of the party (or BBQ)! Plus, it's gluten-free. See the recipe.
---
(middle right) – Bacon Ranch Cheese Ball – You've found the perfect savory recipe for a cheese ball that is amazing at any party! This Bacon Ranch Cheese Ball is an easy-to-make favorite packed with simple, flavorful ingredients. See the recipe.
---
(bottom left) – Bruschetta with Mozzarella – Delicious combination of the most classic Italian flavors – Tomatoes, basil and garlic team up with mozzarella to create this easy appetizer that comes together in just 15 minutes. See the recipe.
---
(bottom right) – Charcuterie Cups – Give guests their own individual charcuterie board in a cup – the perfect handheld party appetizer. See the recipe.
Cold Appetizers With Cream Cheese
Whether it's Happy Hour, Book Club, Bunko game night or just a group of friends over for wine or cocktails, these easy cold appetizers with cream cheese are SO good!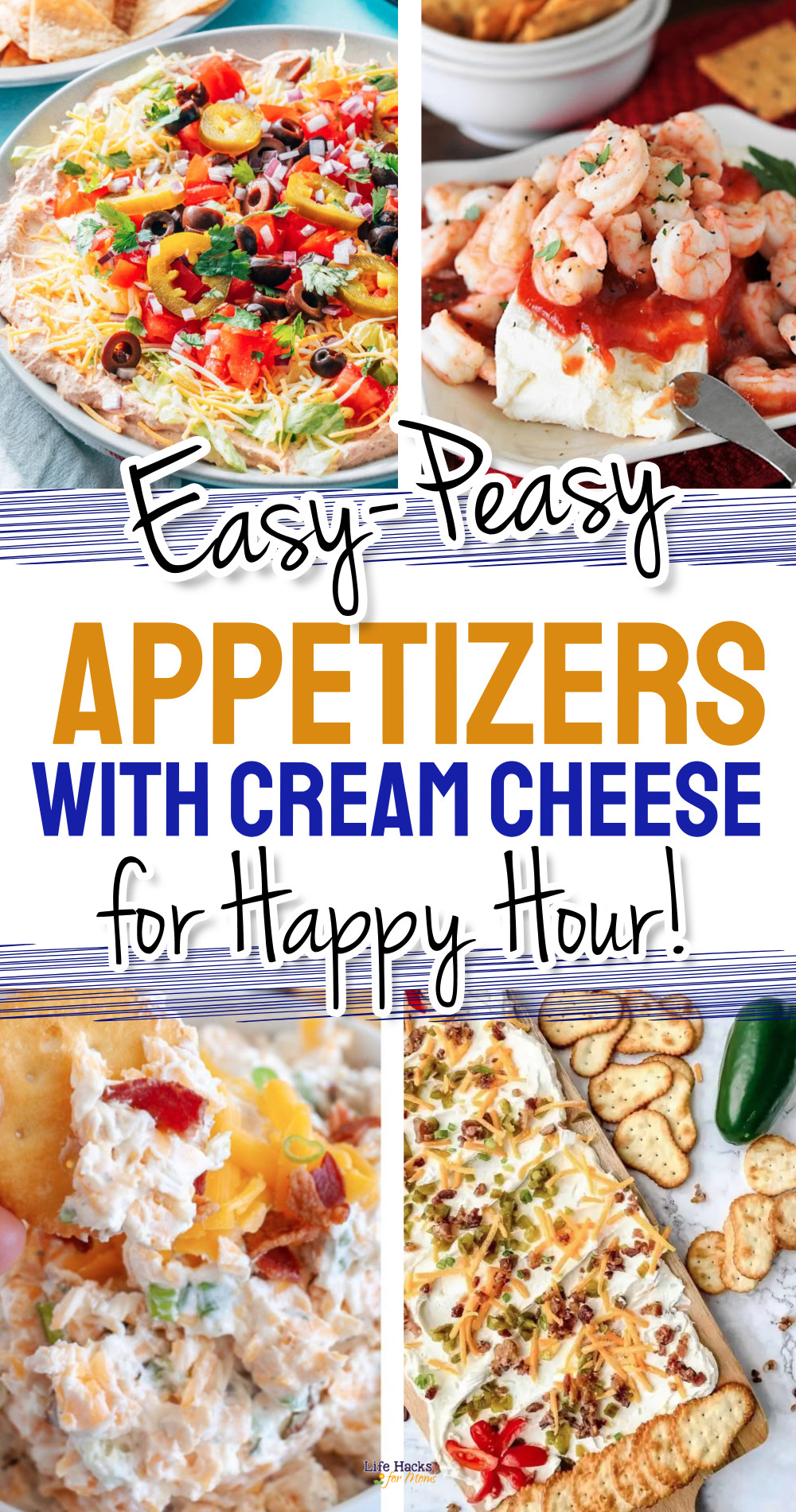 Found In The Picture Above:
(1) Cream Cheese Taco Dip – This taco dip recipe is fast and easy: the ideal party appetizer for a crowd! Scoop up this irresistible creamy mix with tortilla chips. See the recipe.
---
(2) Shrimp & Cream Cheese Appetizer – The flavors of the cream cheese and cocktail sauce blend beautifully together, and combine with the shrimp to create a taste reminiscent of a creamy shrimp cocktail. See the recipe.
---
(3) Million Dollar Crack Dip – Crack dip is an easy, no fuss appetizer that is full of flavor. Cream cheese, bacon, and ranch seasoning come together for this drool worthy party dip. See the recipe.
---
(4) – Jalapeño Popper Cream Cheese Board – A cream cheese board is perfect party appetizer food. This version is like a deconstructed jalapeño popper and comes with shredded cheese, bacon, pickled jalapeños, and is served with crackers, bread, and bagels on the side. See the recipe.
Easy Cold Appetizers For a Crowd
Ready for MORE easy, crowd-pleaser appetizer ideas?
Take a look at these 4 simple and quick finger foods and appetizer recipes: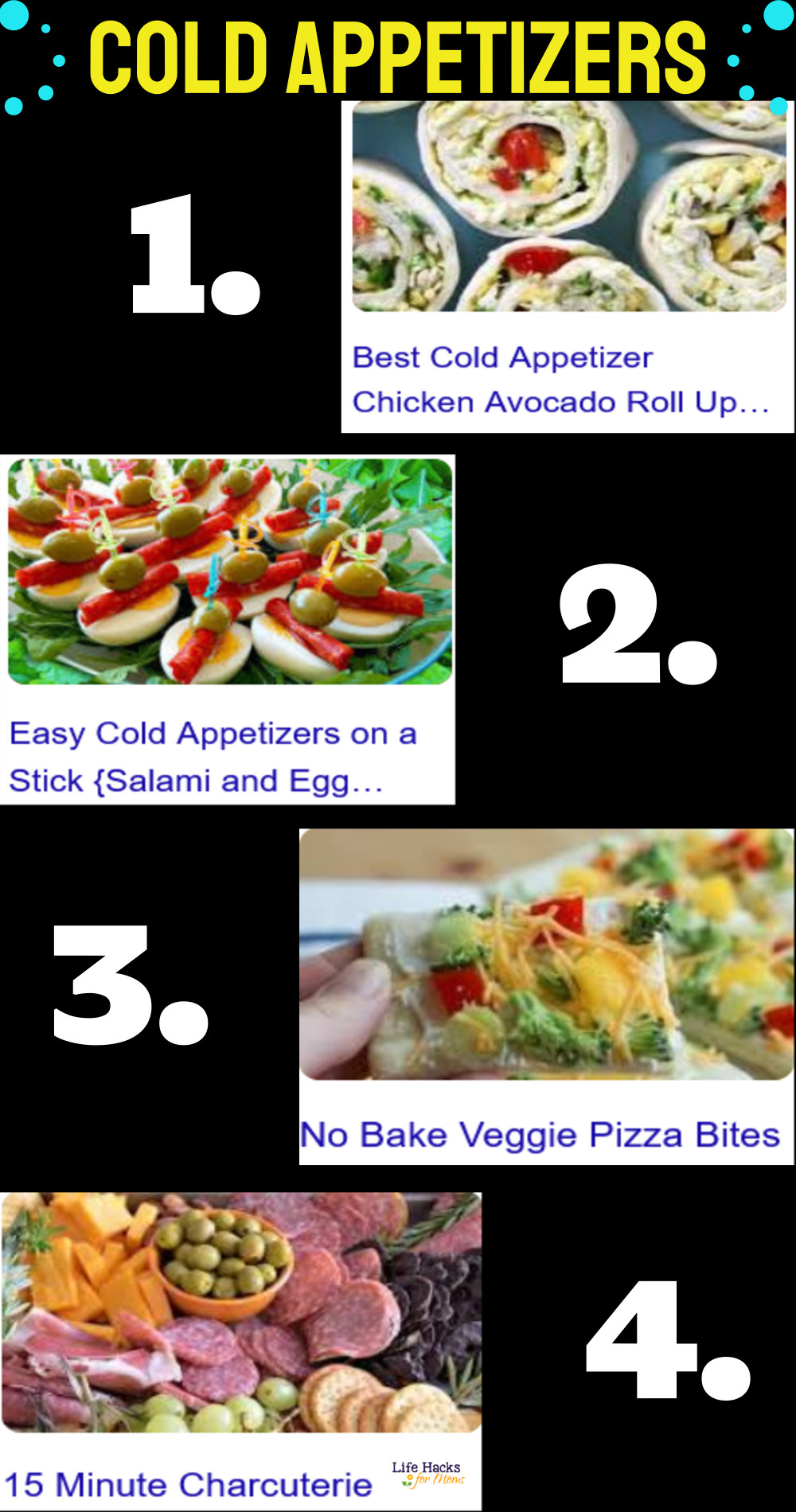 (1) Chicken Avocado Roll Ups – Chicken Avocado Roll Ups are creamy and delicious, made with grilled or leftover chicken, avocado, bell pepper and cheese. See the recipe.
---
(2) Salami and Egg Appetizers on a Stick – You can make these a day in advance, but put arugula leaves on the platter and lay eggs over shortly before serving your party food so the arugula leaves won't be withered and yucky looking. See the recipe.
---
(3) No Bake Veggie Pizza Bites – These No Bake Veggie Pizza Bites make for the perfect party appetizer, snack or lunch on a hot summer day! Quick and easy with Naan or Flat Bread at the base. See the recipe.
---
(4) 15-Minute Charcuterie – This easy charcuterie finger food board recipe is no bake, no cook and is put together easy-peasy. See the recipe.
More Easy Party Food Recipe Ideas
More Ideas For Cooking on a Budget:
---
– Large Group Breakfast Ideas You Can Make Ahead
---
– Simple Chicken Breast Dinner Recipes with Few Ingredients
---
– Leftover Thanksgiving Food Ideas
---
– 12 Simple Christmas Party Punch Recipes For a Large Groups
---
– Super Simple CHOCOLATE Fudge Recipes
---
– Fast and Easy Instant Pot "Dump Dinner" Recipes
---
– Easy Thanksgiving Dessert Ideas For a Crowd
---
– Cheap and Quick Potluck Ideas
---
– Make Ahead Smoothie Packs Recipes and Ideas
---
---
Miss Anything?
Go back to the top of:
==>> Inexpensive Cold Appetizers For a Crowd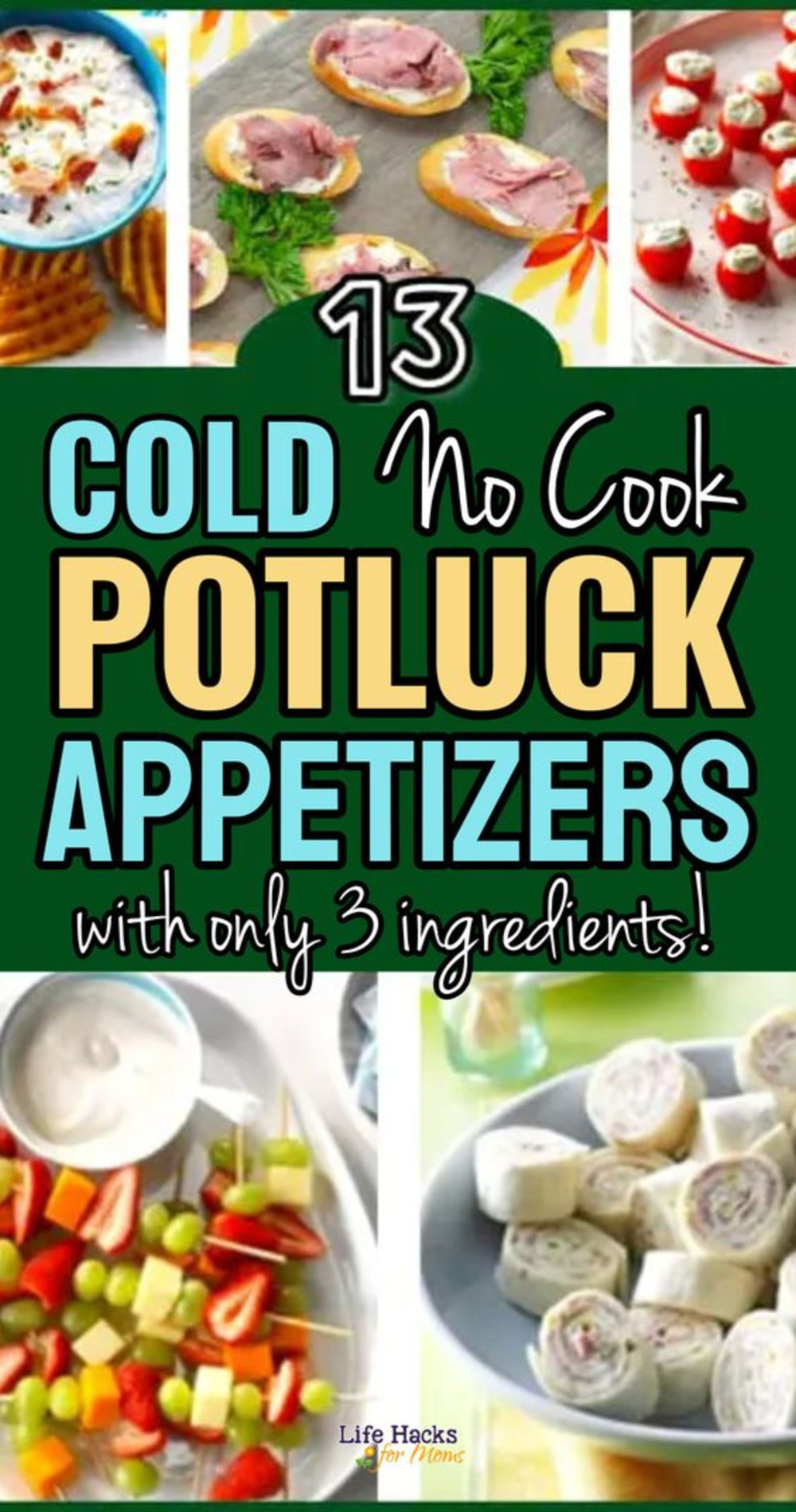 Go back to a specific cold appetizer recipe: